Introducing Caviar Dreams Font Family! A very startling and popular typeface all over the time. This clean font family is been using at many places by various designers till this time. You defiantly have seen it before due to the tremendous fame of this astonishing typeface.
Possessing four sans serif styles, keen artistic features and broad languages support. This unique free font is suitable for many designing purposes. Lauren Thompson was the one who took the charge for creating and releasing this typeface in the first time for Nymfont.
Caviar Dreams Font Family
The top-notch slant about caviar dreams font family is that it is free for personal as well as for the commercial practices. So, You can apply simple font family anywhere you want without any hustle of copyright and stuff.
Ideal for making books covers, books textures, headline purposes, logos craftings, video titling, wedding cards, invitations and business cards designing, printing functions, and many many more. Applying it as a default typeface for developing a game or a web template will also be a good idea.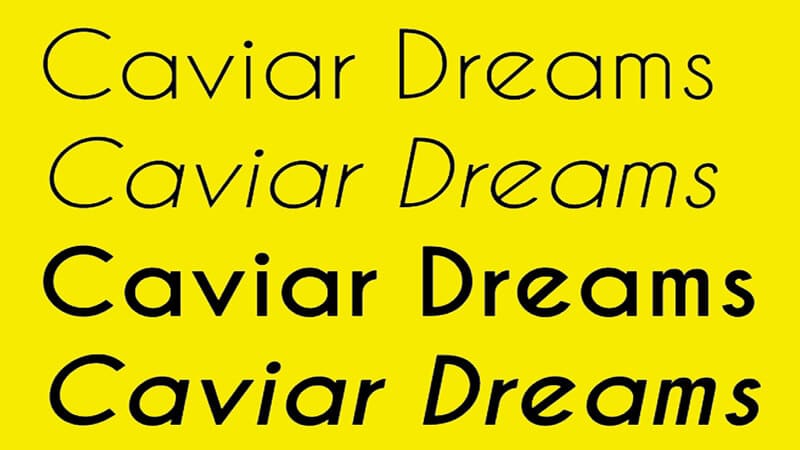 Lauren Thompson who is famous for crafting elegant type designs always, Took huge care for designing this though. You will get an overview about the concern and experience the high-grade legible journey when you go through the letter map images we fasten in here.
A font family becomes great when it has got all basic font styles in it for the better fonts pairing flavour. Caviar dreams font family features four unique styles, occupying Regular, Italics, Bold, and Bold Italic. So, Due to this peculiarity, it has everything that a designer urge to have in his designing campaign.
Here we are distributing it for free and you can download it by just a single click. I wish that it will work well for you in meeting your clients and audiences requirements. And makes sure to create a satisfying delightful design for them.
You might be a designer who is reading this, If so, then we suggest you crawl this Fonts Magazine Site and practice with other type designs as well to enhance your skills. Also, share your views about Caviar Dreams typeface in the comment section below.
Still, if you guys face any kind of issue or have some suggestion for us then contact us. We will be live with you as soon as it will be possible. Best of luck with your projects. Happy designing!